IMPORTANT: Orders placed on or after Monday, November 20th, may not ship until Tuesday, November 28th.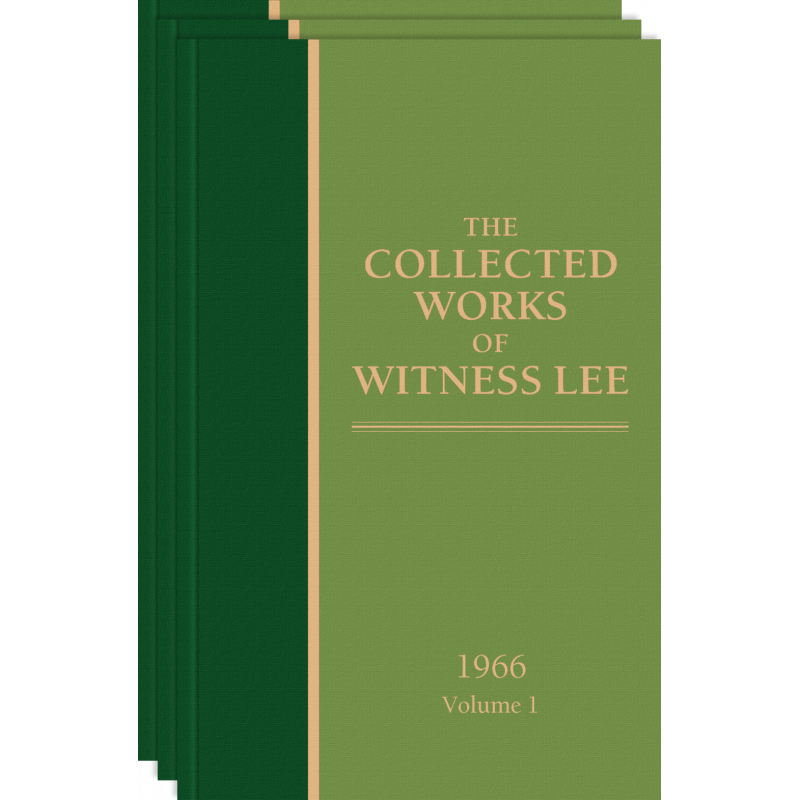  
Collected Works of Witness Lee, 1966, The (vols. 1-3)
p>These messages were spoken in 1966 and are combined into a three-volume hardbound set. Many of these messages include existing publications as well as previously unpublished material.
Below is a list of many of the different section titles.
The * refer to previously unpublished titles.
Volume One
Miscellaneous Lord's Day Meetings in Los Angeles *
Messages on Matthew *
Christ Our Portion
The Lord's Recovery of the Church *
Enjoying Christ as Our Feast to be His Fruit-Bearing Branches *
Exercising Our Spirit in Our Daily Life for the Meeting Life *
God's High Calling *
Fellowship on Life, Building, and Fruit-Bearing *
Miscellaneous Messages in Los Angeles *
Various Lord's Day Meetings in Los Angeles *
Conference in Warren, Ohio *
The Priesthood
Volume Two
The Exercise of Our Spirit
The Way to Enjoy Christ as the Word and the Spirit *
Practicing the Oneness According to the Heavenly Vision of the Body of Christ *
The Way to Bear Fruit *
Additional Words in Response to the Testing and Testimonies of the Saints During the 1966 Summer Training in Los Angeles *
The Divine Spirit with the Human Spirit in the Epistles
Enjoying the Riches of Christ to Bear Much Fruit as the Body of Christ, Standing on the Unique Ground of Oneness *
Being Delivered from Religious Practices by the Exercise of the Spirit *
Volume Three
Living in the Spirit, Standing on the Church Ground, and Spreading the Gospel *
The Revelation of Christ as the Reality of the Church *
The Transformation of Life and the Building Up of the Church *
Lord's Day Messages in Taipei *
Gospel Messages *
Made Full in Christ and Walking by the Spirit *
Data sheet
Catálogo

22-066-901

ISBN

978-0-7363-3566-9

Publicado por

Living Stream Ministry

Idioma

Inglés

Páginas

1605

Autor

Witness Lee
Specific References
isbn

978-0-7363-3566-9