IMPORTANT: Orders placed on or after Monday, November 20th, may not ship until Tuesday, November 28th.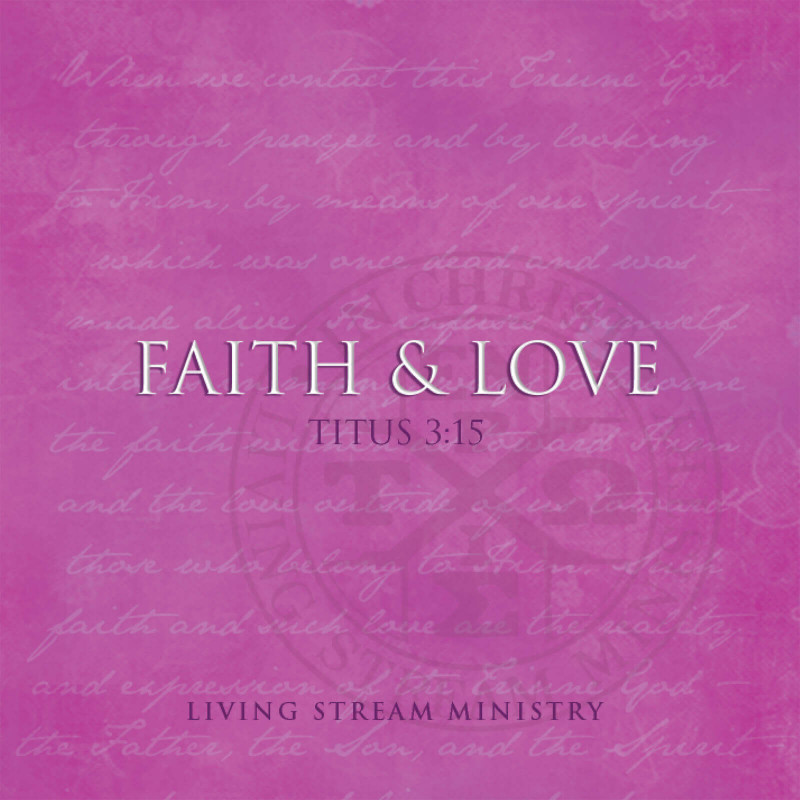  
Faith & Love Titus 3:15 (Music CD)
Other Formats
Faith & Love—A Footnote on Titus 3:15 in the Holy Bible Recovery Version
The twelve songs in this album present in musical form a lengthy footnote on Titus 3:15 written by Witness Lee and published by Living Stream Ministry in the Holy Bible Recovery Version. The subject is faith and love, "two inseparable, excellent virtues of the believers in Christ." Indeed, faith and love appear together repeatedly in Paul's Epistles (Gal. 5:6; Eh. 6:23; 1 Thes. 5:8; and 1 Tim. 1:14—to name a few).
Faith and love are not only necessary for us to receive, enjoy, and live out the Triune God; they are, as indicated by the context of the books of 1 and 2 Timothy and Titus, even the more crucial today for us to stand firm in the current of the church's degradation. This wonderful faith and this super-excellent love, which are out of the Triune God, enable us to realize the Body of Christ, to express the Triune God today on the earth, and to have an overcoming church life for the fulfillment of God's New Testament economy.
These songs were written with the burden that we all would be constituted with and even commit to memory the truth contained in this footnote. In the concluding words of the footnote, "May this love with this faith be to the brothers from God the Father and the Lord Jesus Christ."
TRACKLIST
| TITLE | AUDIO CLIP |
| --- | --- |
| 1. All Who are With Me Greet You | Your browser does not support the audio tag. |
| 2. Two Inseparable, Excellent Virtues | Your browser does not support the audio tag. |
| 3. Faith is for Appreciating | Your browser does not support the audio tag. |
| 4. The Epistle to Titus | Your browser does not support the audio tag. |
| 5. We Should Not Walk by Sight | Your browser does not support the audio tag. |
| 6. This Wonderful Faith | Your browser does not support the audio tag. |
| 7. When We Contact This Triune God | Your browser does not support the audio tag. |
| 8. Such Faith and Such Love (Round) | Your browser does not support the audio tag. |
| 9. It is by Such Faith | Your browser does not support the audio tag. |
| 10. Such Faith and Love (Conclusion) | Your browser does not support the audio tag. |
| 11. When We Contact the Triune God | Your browser does not support the audio tag. |
| 12. Faith and Love | Your browser does not support the audio tag. |
Data sheet
Catálogo

99-983-001

ISBN

978-0-7363-3907-0

Publicado por

Living Stream Ministry

Idioma

Inglés
Specific References
isbn

978-0-7363-3907-0