IMPORTANT: Orders placed on or after Monday, November 20th, may not ship until Tuesday, November 28th.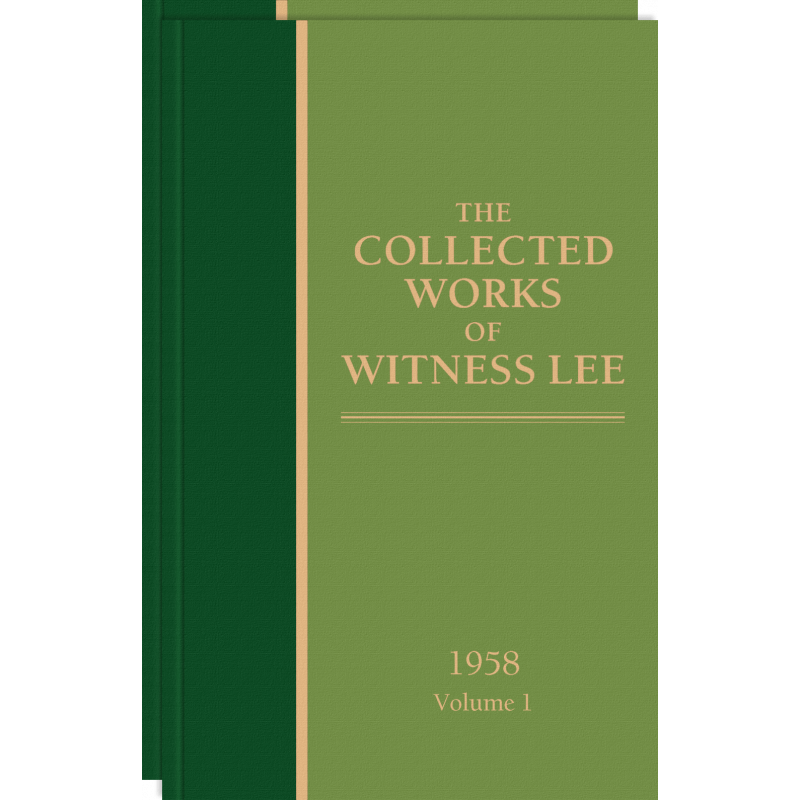  
Collected Works of Witness Lee, 1958, The (vols. 1-2)
These messages were spoken in 1958 and are combined into a two-volume hardbound set totaling over 1,250 pages. Many of these messages include existing publications as well as previously unpublished material.
Below is a list of many of the different section titles.
The * refer to previously unpublished titles.
Volume One
Building and Perfecting *
"The Son of Man" *
Reading the Bible to See its True Meaning and Central Thought
The Perfecting of the Saints and the Building Up of the House of God
Church News *
How to Enjoy God and How to Practice the Enjoyment of God
The Vision of the Tree of Life and the Tree of the Knowledge of Good and Evil
Volume Two
The Practice of Enjoying God by Eating and Drinking Him *
A Record of Several Talks in Tokyo *
A Record of Two Talks in New York City *
God as Life to Man to be Mingled with Man for His Expression *
The Building of God's Dwelling Place *
Record of Several Talks in Hong Kong *
The Building Work of God
The Basis for the Building Work of God
The Vision, Type, and Practice of the Building Up of the Church
How to Lead the Young People
Data sheet
Catalog

22-058-901

ISBN

978-0-7363-8206-9

Published by

Living Stream Ministry

Language

English

Pages

1328

Author

Witness Lee
Specific References
ISBN

978-0-7363-8206-9