IMPORTANT: Orders placed on or after Monday, November 20th, may not ship until Tuesday, November 28th.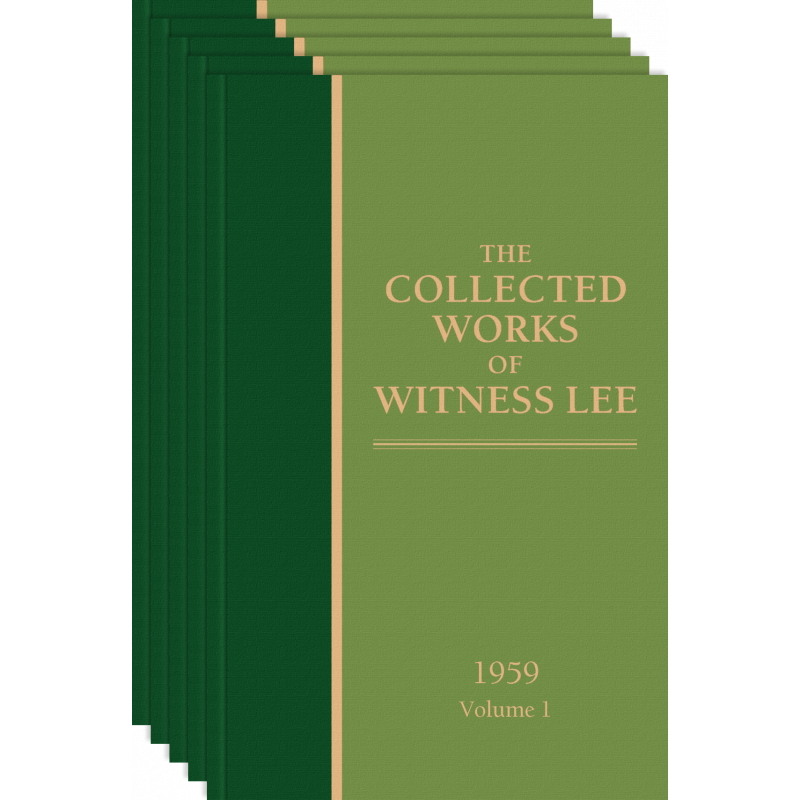  
Collected Works of Witness Lee, 1959, The (vols. 1-5)
These messages were spoken in 1959 and are combined into a five-volume hardbound set totaling over 2,600 pages. Many of these messages include existing publications as well as previously unpublished material.
Below is a list of many of the different section titles.
The * refer to previously unpublished titles.
Volume One
Church News *
The New Direction of the Work *
Our Vision—Christ and the Church
Revelations in John: Seeing the Essential Significance of Life and Building *
A Record of Several Talks in Hong Kong *
Experiencing God as Life to Live the Church Life *
Volume Two
Christ Making His Home in Our Heart and the Building Up of the Church *
Knowing and Experiencing God as Life
Leading the Young People with the Word and the Spirit
Questions and Answers concerning Life and Service *
Christ Being the Burden of the Gospel *
Volume Three
Witness Lee's Personal Notes *
Lessons for New Believers
On Knowing the Bible
Ten Lines in the Bible
Volume Four
The Purpose, Regulations, and Standard of the Training *
Lessons on Prayer
Life and Building in the Gospel of John
Synopsis of Genesis *
A Topical Outline of the Bible *
Volume Five
Synopsis of Exodus *
Synopsis of Leviticus *
Data sheet
Catalog

22-059-901

ISBN

978-0-7363-8210-6

Published by

Living Stream Ministry

Language

English

Pages

2263

Author

Witness Lee
Specific References
ISBN

978-0-7363-8210-6