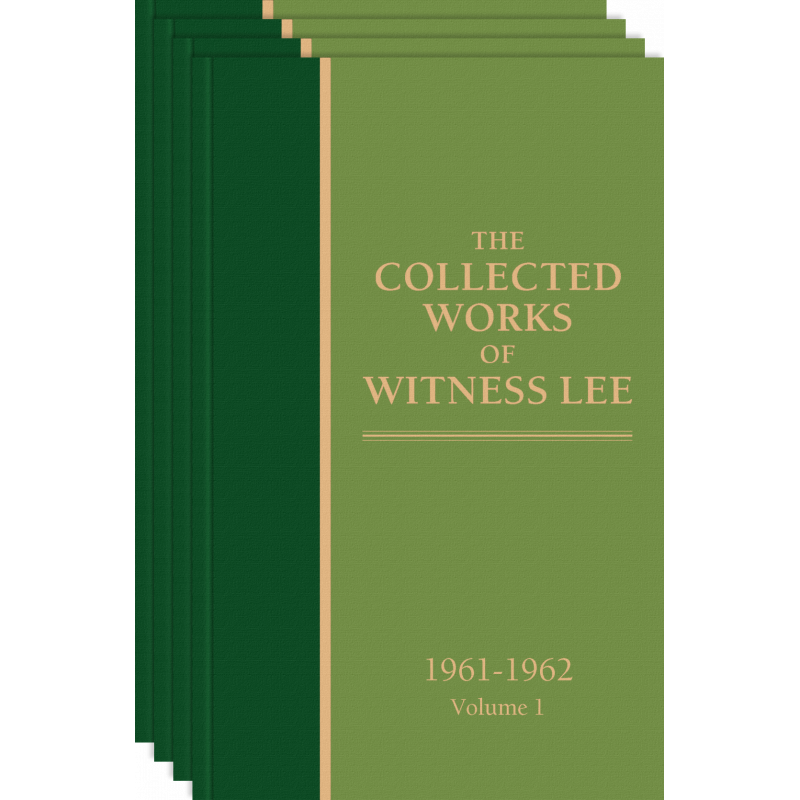  
Collected Works of Witness Lee, 1961-62, The (vols. 1-4)
These messages were spoken in 1961 and 1962 and are combined into a four-volume hardbound set totaling over 1,800 pages. Many of these messages include existing publications as well as previously unpublished material.
Below is a list of many of the different section titles.
The * refer to previously unpublished titles.
Volume One
Church News *
Witness Lee's Personal Notes *
A Strong and a Good Deposit *
The Blueprint and the Ground for the Building up of the Church
The Vision of the Building of the Church
Coordination in Service *
Exercising the Spirit in Prayer for the Priesthood *
Words concerning the Young People *
Volume Two
The Priesthood and God's Building
The Prayer that Bears the Lord's Burden and the Prayer of Spiritual Warfare *
A Record of Talks concerning the Lord's Specific Commission in this Age *
Life and Building in the Book of Ezekiel *
The Priesthood and Prayer *
The Sheep Hear His Voice *
The Ministry of the Priesthood *
Volume Three
The Exercise of the Spirit and the Building of God
How God Becomes Man's Enjoyment
The Visions of Ezekiel
Witness Lee's Diary *
The Riches and the Fullness of Christ *
Church News *
Christ and the Church *
Various Meetings in New York City and San Francisco *
Fellowshipping with the Lord for the Mingling of God with Man
The Purpose of God's Salvation
Volume Four
Experiencing Christ in a Practical Way for the Building up of the Church *
Recovering the First Love and Seeing the Vision of Christ and the Church *
The Mystery of God and the Mystery of Christ
The All-inclusive Christ
The Lord's Recovery of the Expression of Christ by the Power of Resurrection and Through the Overcoming Believers *
The Knowledge and Experience of Christ in Ephesians and Colossians *
Fellowship concerning the First Day of the First Month of the Year *
Data sheet
Catalog

22-061-901

ISBN

978-0-7363-8217-5

Published by

Living Stream Ministry

Language

English

Pages

1886

Author

Witness Lee
Specific References
ISBN

978-0-7363-8217-5