IMPORTANT: Orders placed on or after Monday, November 20th, may not ship until Tuesday, November 28th.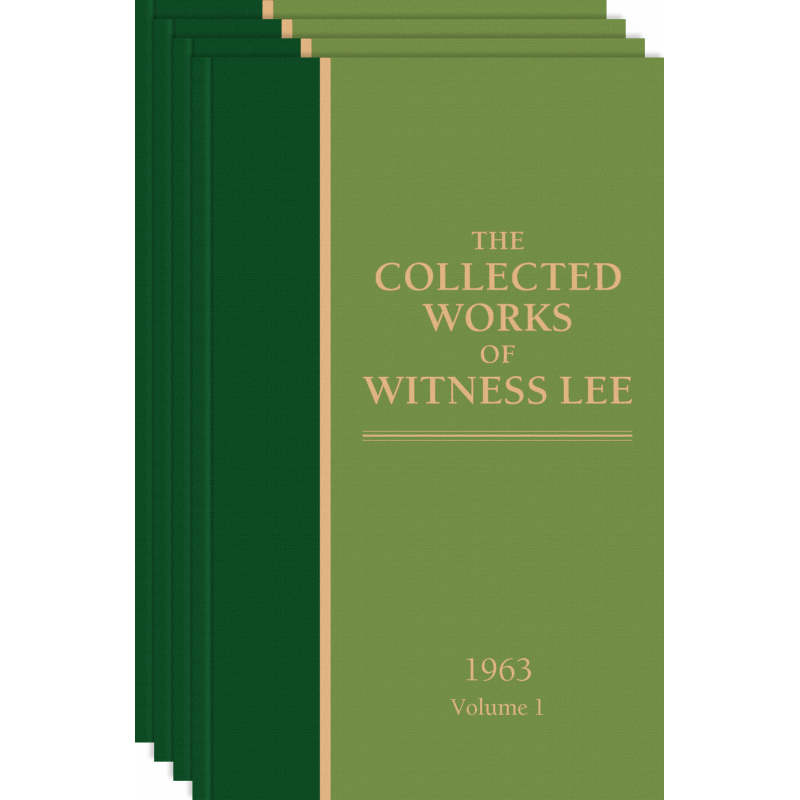  
Collected Works of Witness Lee, 1963, The (vols. 1-4)
These messages were spoken in 1963 and are combined into a four-volume hardbound set totaling over 2,000 pages. Many of these messages include existing publications as well as previously unpublished material.
Below is a list of many of the different section titles.
The * refer to previously unpublished titles.
Volume One
The Believer's Experience of Transformation
Spiritual Applications of the Tabernacle
Prayer on the Ground of Christ's Ascension *
The Divine Stream
The Key to Our Experience of Transformation—Knowing the Inward Parts of Man *
Highlights from the Gospel of John *
The Practical Way to Live in the Mingling of God with Man
The Enjoyment of Christ for His Increase
Various Times of Fellowship with the Leading Ones in Los Angeles *
Experiencing the Mingling of God with Man for the Oneness of the Body of Christ
The Two Spirits in the Gospel of John *
Volume Two
The Four Major Steps of Christ
God's Intention concerning Christ and the Church
Lord's Day Morning Messages *
Various Speakings *
Fellowship with the Leading Ones *
The Living that Fulfills God's Eternal Purpose *
Transformation for God's Building *
The Central Thought of God
Volume Three
Basic Principles of the Experience of Life
The Building of God
Basic Principles for the Service in the Church Life
Basic Principles for the Practice of the Church Life
The Work of the Holy Spirit
A Brief Definition of the Kingdom of the Heavens
Miscellaneous Messages *
Miscellaneous Speakings *
Volume Four
Contacting the Lord, Being Filled in Spirit, and Having Proper Christian Meetings for the Accomplishment of God's Eternal Purpose
Experiencing Christ as Life for Our Transformation into His Image *
The Practical Way to Fulfill God's Eternal Purpose *
The Exercise of Our Spirit for the Release of the Spirit
Being Transformed for the Practice of the Church Life *
The Fulfillment of God's Purpose and the Defeat of God's Enemy *
Experiencing Christ as the Inner Life
The Relationship of God with Man in God's New Creation
Lord's Day Messages in Los Angeles *
Fellowship with the Leading Ones *
The Life and Way for the Practice of the Church Life
Fellowship concerning the Body of Christ *
Data sheet
Catalog

22-063-901

ISBN

978-0-7363-2679-7

Published by

Living Stream Ministry

Language

English

Pages

2114

Author

Witness Lee
Specific References
ISBN

978-0-7363-2679-7