Due to a system upgrade, orders placed on this website will be accepted but not fulfilled until May 20, 2021.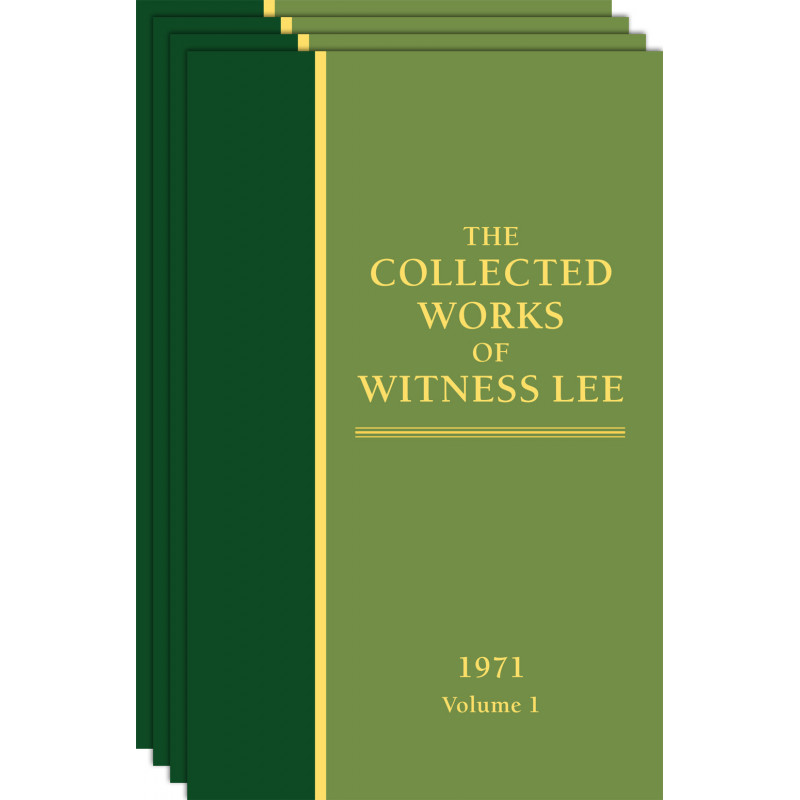  
Collected Works of Witness Lee, 1971, The (vols. 1-4)
These messages were spoken in 1971 and are combined into a four-volume hardbound set totaling over 1,900 pages. Many of these messages include existing publications as well as previously unpublished material.
Below is a list of many of the different section titles.
The * refer to previously unpublished titles.
Volume One
Shepherding the Church and Perfecting the Young People
The Meaning of Human Life and a Proper Consecration
The Abolishing of Ordinances and the Making of Peace *
Experiencing Christ for the Church as the New Man, the Body of Christ, and the Bride of Christ *
Experiencing Christ for the Building Up of the Church as the Body of Christ and the New Man *
The Life for the Preaching of the High Gospel
Volume Two
Christ as the Reality
Following the Lord by Discipling the Nations and Feeding His Sheep *
Enjoying the Humanity of Jesus for the Church *
Keeping the Oneness of the Body of Christ *
Enjoying Christ as the Reality of the Offereings for the Church Life *
Miscellaneous Messages Given to the Church in Los Angeles *
The Great Mystery—Christ and the Church *
Enjoying Christ as the Spirit and Caring for the Oneness and Increase of the Body of Christ *
Volume Three
Being Saved in Christ's Life and Walking according to the Spirit for the Building Up of the Body of Christ *
Enjoying Christ as the Tree of Life for the Accomplishment of God's Purpose *
Gaining People and Building Them Up for the Body of Christ *
Enjoying the All-inclusive Christ as the Life-giving Spirit for the Fulfillment of God's Eternal Purpose *
Experiencing Christ as the Spirit for the Recovery of the Church as the Body of Christ and the House of God *
Overcoming the Church's Degradation to Produce the Man-child and the Bride for the Fulfillment of God's Purpose *
The Speciality, Generality, and Practicality of the Church Life
Volume Four
Enjoying the Riches of Christ for the Building Up of the Church as the Body of Christ
The Scriptural Pattern for Raising Up Churches *
Migration for the Lord's Move in the United States *
The Establishing and Spread of the Churches *
Various Los Angeles Meetings *
The Recovery of the Genuine Oneness of the Body of Christ *
Having a Personal, Intimate, Affectionate, Tender, and Loving Contact with the Lord Jesus *
The Lord's Recovery of the Enjoyment of the All-inclusive Christ *
The Central Revelation in the Bible *
Being Saved in the Life of Christ for the Church Life *
Gathering Together to Minister Christ, to Receive Christ, and to Glorify God *
Enjoying and Ministering Christ for the Building Up of the Body of Christ *
Crucial Aspects of the Lord's Recovery *
Data sheet
ISBN

978-0-7363-4736-5

Published by

Living Stream Ministry

Language

English

Pages

1930

Catalog

22-071-901

Author

Witness Lee