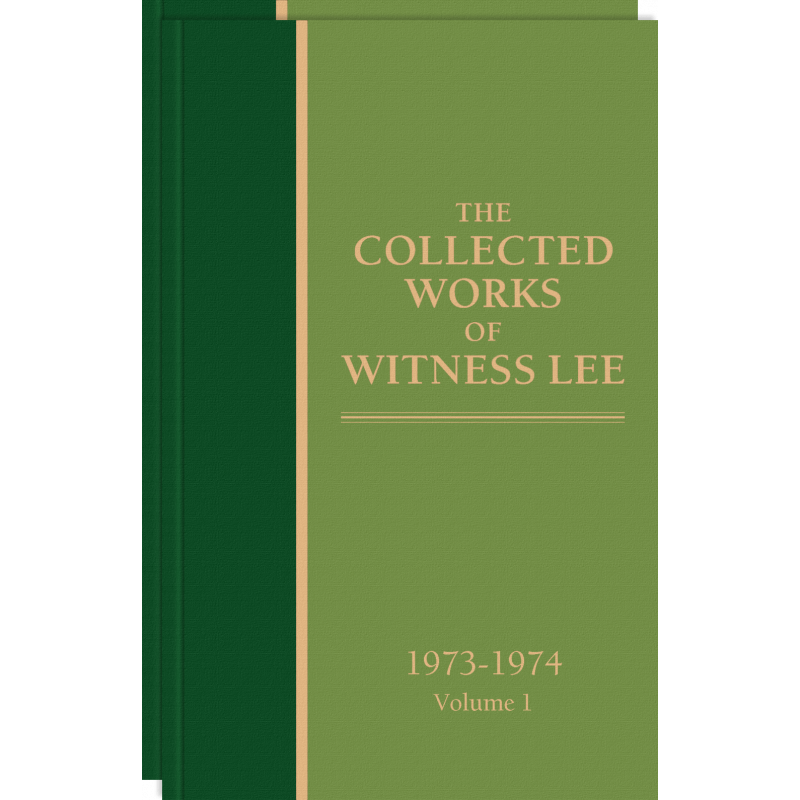  
Collected Works of Witness Lee, 1973-74, The (vols. 1-2)
These messages were spoken in 1973 and 1974 and are combined into a two-volume hardbound set totaling over 1,200 pages. Many of these messages include existing publications as well as previously unpublished material.
Below is a list of many of the different section titles.
The * refer to previously unpublished titles.
Volume One
The History of the Church and the Local Churches
The Kernel of the New Testament—the Divine Spirit with Our Human Spirit *
The Enjoyment of Christ for the Body in First Corinthians
The Way for the Church to Go On Today *
The Enjoyment of the All-inclusive Christ for the Building Up of the Church as the Body of Christ and the New Man *
Enjoying Christ and Ministering Him in the Local Churches *
Life and Building as Revealed in Peter's Epistles *
Miscellaneous Messages Given to the Church in Los Angeles *
Life and Building in First and Second Peter *
Grace in the New Testament *
Participating in the Riches of Christ and Being Mingled with the Processed Triune God for the Church *
The Vision and Experience of the Corporate Christ
The Indwelling Christ in the Canon of the New Testament
Volume Two
The Wonderful Christ in the Canon of the New Testament
Various Meetings in Los Angeles (Part 1 - The Six Marys)
Various Meetings in Los Angeles (Part 2 - The Way Christ Prepares His Bride) *
Miscellaneous Meetings in Los Angeles *
The Bible—a Book of Life and Building *
Brief Outline of Romans 5 *
Principles for the Preaching of the Gospel *
Basic Factors of the Church Service *
The Lord's Return *
Life *
Fellowship with Elders and Responsible Ones *
Various Meetings in Anaheim and Huntington Beach *
The Normal Way of Fruit-bearing and Shepherding for the Building Up of the Church
Data sheet
Catalog

22-073-901

ISBN

978-07363-6359-4

Published by

Living Stream Ministry

Language

English

Pages

1291

Author

Witness Lee
Specific References
ISBN

978-07363-6359-4