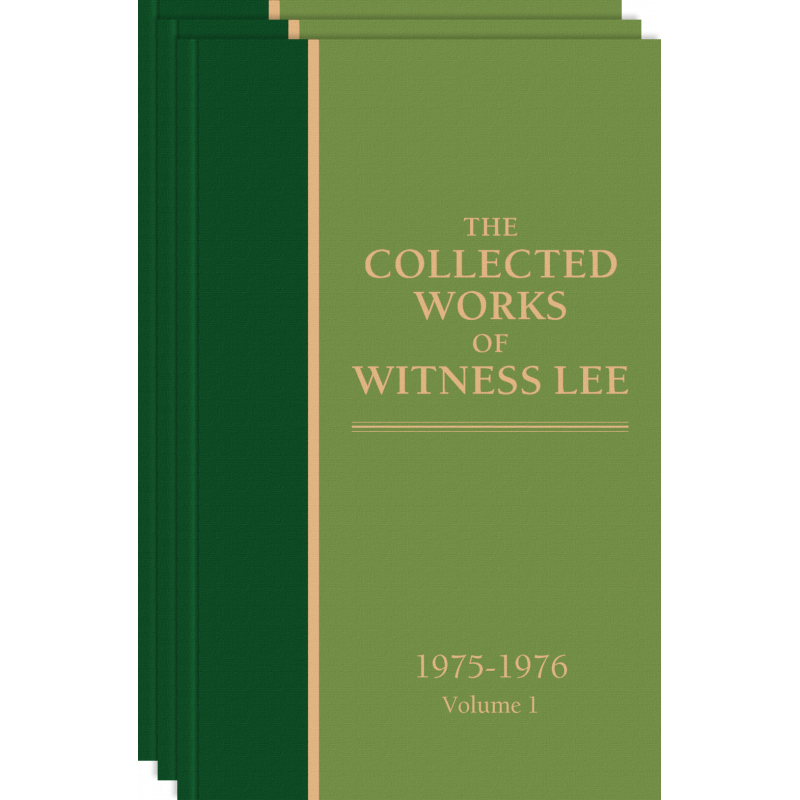  
Collected Works of Witness Lee, 1975-76, The (vols. 1-3)
These messages were spoken in 1975 and 1976 and are combined into a three-volume hardbound set totaling over 1,500 pages. Many of these messages include existing publications as well as previously unpublished material.
Below is a list of many of the different section titles.
The * refer to previously unpublished titles.
Volume One
Fellowship with the Young People
Fellowship concerning Baptism *
Word for the Sisters (Part 1 - The Serving Sisters in the Church Life)
Word for the Sisters (Part 2 - The Loving Mothers in the Church Life)
The Seven Mysteries in the Epistle of John
The Crucial Function of the Sisters in the Church Life *
Brother Lee's Personal Testimony concerning Calling on the Name of the Lord *
Fellowship concerning the Preparation of Meeting Halls *
The Flesh and the Spirit
The Building of the Church
The Testimony of Jesus
The Truth concerning the Triune God and Crucial Points of Truth and Practice *
Fellowship with Elders *
Living in the Spirit
Living with the Lord
Volume Two
The Central Vision for Serving the Church
The Testimony of Jesus Christ—the Church in Revelation *
Serving in the Flow of the Age
The Proper Exercise of the Young People in the Church *
The Revelation of the Mystery
Miscellaneous Messages in Berkeley *
The Revelation of the Triune God according to the Pure Word of the Bible
The Mingling of God and Man and the Proper Way for the Chruch to Grow, Function, and Be Built Up *
Needing a Proper Heart and Spirit for the Church *
The Lord's Recovery *
The Basic Item of the Lord's Recovery Being Life, and the Issue of the Lord's Recovery Being the Body *
The Church—the Reprint of the Spirit
Volume Three
Standing for the Truth and Ministering Life for the Lord's Testimony *
Notes on Crucial Points in the Epistle to the Hebrews *
Fellowship with the Church in Anaheim concerning the Book of Hebrews *
Practical Points for the Sisters concerning the Building Up of the Church *
Living Christ and Contacting People for the Gospel *
The Functioning of the Believers to Bring in the Kingdom *
Miscellaneous Messages Given to the Church in Anaheim *
Various Anaheim Lord's Day Evening Meetings *
The Eldership and the Progress of the Church Life *
What a Heresy—Two Divine Fathers, Two Life-giving Spirits, and Three Gods!
Young People's Training
The Lord's Present Move and Vision in His Recovery *
Data sheet
Catalog

22-075-901

ISBN

978-0-7363-6521-5

Published by

Living Stream Ministry

Language

English

Pages

1541

Author

Witness Lee
Specific References
ISBN

978-0-7363-6521-5