IMPORTANT: Orders placed on or after Monday, November 20th, may not ship until Tuesday, November 28th.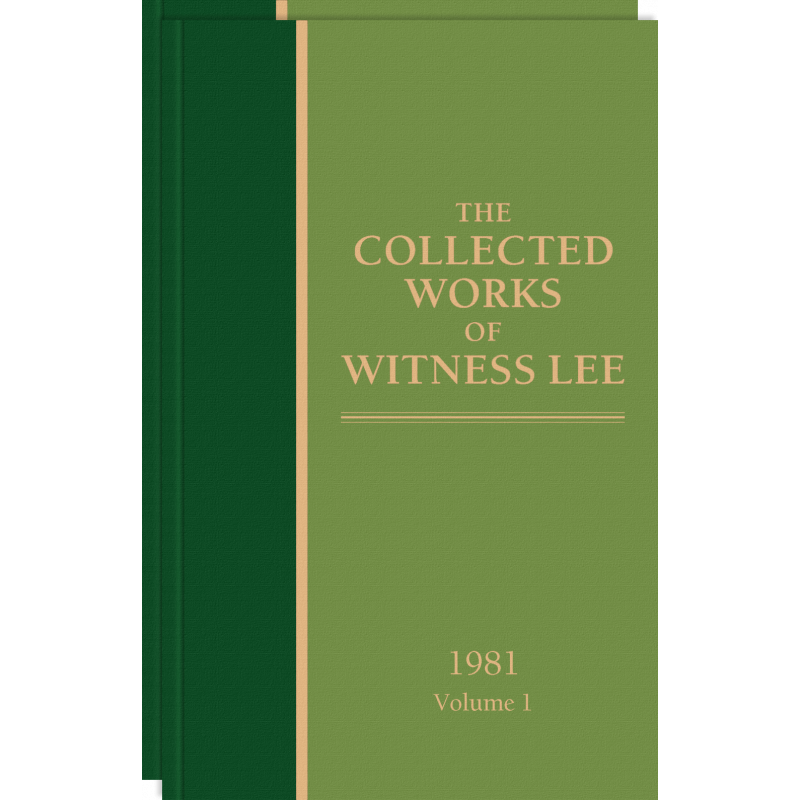  
Collected Works of Witness Lee, 1981, The (vols. 1-2)
These messages were spoken in 1981 and are combined into a two-volume hardbound set totaling over 1,100 pages. Many of these messages include existing publications as well as previously unpublished material.
Below is a list of many of the different section titles.
The * refer to previously unpublished titles.
Volume One
Fellowship with Serving Ones *
Carrying Out the New Testament Ministry *
Various Lord's Day Meetings *
The Central Vision of Paul's Completing Ministry *
God's Eternal Intention and Satan's Counterplot
The World Situation and God's Move
Questions and Fellowship concerning Full-time Service *
Christ Becoming Righteousness, Sanctification, and Redemption to Us in Our Daily Life *
Carrying Out God's New Testament Economy, Caring for the Central Vision of Paul's Completing Ministry and John's Mending Ministry, Migrating and Establishing Churches in the Move of the Body of Christ, and Awaiting the Revelation of Our Lord Jesus *
Fellowship with a Group of Young People *
Crucial Aspects of the Experience of Christ Revealed in Paul's Epistles
The Great Mystery—Christ and the Church
Volume Two
The History and Revelation of the Lord's Recovery *
The Center of Paul's Completing Ministry *
Data sheet
Catalog

22-081-901

ISBN

978-0-7363-7564-1

Published by

Living Stream Ministry

Language

English

Pages

1128

Author

Witness Lee
Specific References
ISBN

978-0-7363-7564-1