Due to a system upgrade, orders placed on this website will be accepted but not fulfilled until May 20, 2021.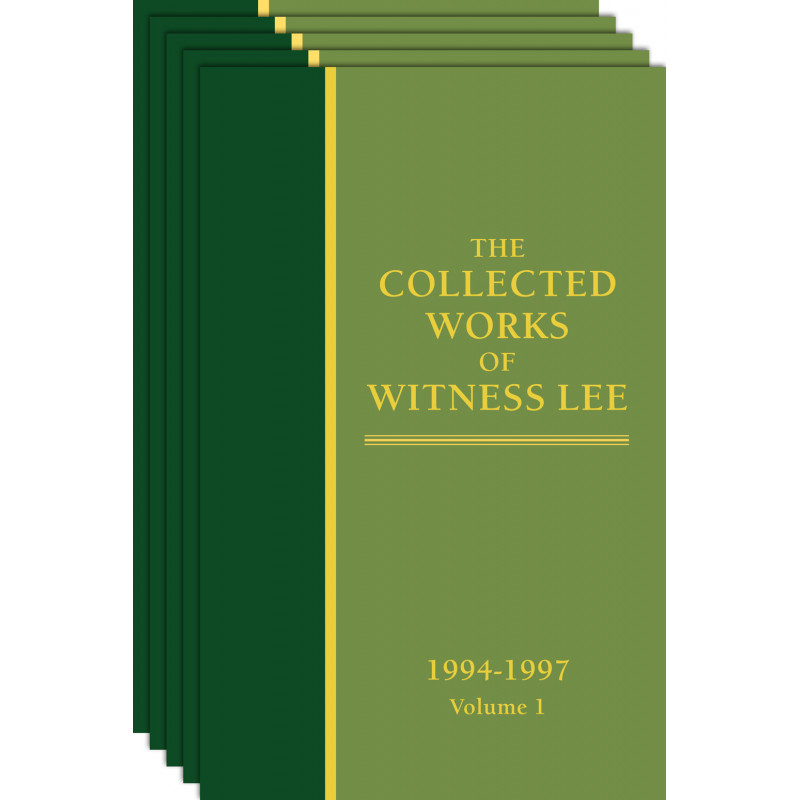  
Collected Works of Witness Lee, 1994-97, The (vols. 1-5)
These messages were spoken in 1994 and are combined into a five-volume hardbound set totaling over 2,700 pages. Many of these messages include existing publications as well as previously unpublished material.
Below is a list of many of the different section titles.
The * refer to previously unpublished titles.
Volume One
God Becoming Man to Make Man the Same as He Is for His Highest Testimony *
The Dispensing, Transformation, and Building of the Processed Divine Trinity in the Believers
A Personal Note by Witness Lee concerning the Burden of His Ministry *
Fellowship with Full-time Trainees *
The High Peak of the Vision and the Reality of the Body of Christ
The Practical Points concerning Blending
Pre-meeting Fellowship during the Semiannual Training on the Life-study of First and Second Kings *
Living a Life according to the High Peak of God's Revelation
Crystallization-study of the Epistle to the Romans
The Best Marriage *
A General Outline of God's Economy and the Proper Living of a God-man: a Fellowship with the Elders from Taiwan, Hong Kong, and Malaysia
Volume Two
The Revival of the God-man Living *
Fellowship with Serving Saints in the Living Stream Ministry Office *
The Practical Way to Live a Life according to the High Peak of the Divine Revelation in the Holy Scriptures
The Eschatology of the Church according to the Divine Revelation of the Scriptures *
Talks with a Seeking One *
Fellowship with Co-workers and Elders *
Church Meetings in Anaheim *
The Issue of the Union of the Consummated Spirit of the Triune God and the Regenerated Spirit of the Believers
The Intrinsic Revelation of the Bible *
The Governing and Controlling Vision in the Bible
Crystallization-study of the Epistle of James
Crucial Aspects of God's New Testament Economy Missed in Today's Christianity *
The God-men
Volume Three
Applying the Intrinsic Significance of the New Jerusalem *
A Departing Word to the Graduates of the 1995 Full-time Training Spring Term *
The Highest Vision and Revelation *
Pre-meeting Fellowship on the Life-study of Proverbs, Ecclesiastes, and Song of Songs *
Dealing with the Problem of Regionalism in the Lord's Recovery *
The Triune God's Revelation and His Move
The Ten Great Critical "Ones" for the Building Up of the Body of Christ
The Application of the Interpretation of the New Jerusalem to the Seeking Believers
Crystallization-study of Song of Songs
Co-workers' Meetings in Anaheim *
The Organic Aspect of God's Salvation
The God-man Living
Pre-meeting Fellowship on the God-man Living *
Volume Four
The Difference between The Lord's Recovery and the Denominations *
Various Meetings in Anaheim *
The Divine and Mystical Realm
Pre-meeting Fellowship on the Divine and Mystical Realm *
Incarnation, Inclusion, and Intensification
The Secret of God's Organic Salvation—"The Spirit Himself with Our Spirit"
Pre-meeting Fellowship on the Secret of God's Organic Salvation—"The Spirit Himself with Our Spirit" *
The Divine Revelation in the New Testament and the Lord's Recovery *
The Three Major Sections of the Divine Revelation in the New Testament *
Miscellaneous FTTA Fellowships *
Crystallization-study of the Gospel of John
Pre-meeting Fellowship on the Crystallization-study of the Gospel of John *
The Office Life of the Living Stream Ministry *
My Autobiography—an Oral Presentation to My Children Revealing My Experiences of the Processed and Consummated Triune God *
Volume Five
A Word of Love to the Co-workers, Elders, Lovers, and Seekers of the Lord
The Vital Groups
Fellowship before the Meetings of the Full-time Training in the Fall of 1996 *
How to Be a Co-worker and an Elder and How to Fulfill Their Obligations
Pre-meeting Fellowship on How to be a Co-worker and an Elder and How to Fulfill Their Obligations *
Paying the Price to Eat the Hidden Manna in Order to Gain the Triune God as Gold *
The Issue of Christ Being Glorified by the Father with the Divine Glory
Pre-meeting Fellowship During the 1996 Thanksgiving Conference *
Crystallization-study of the Humanity of Christ
Crystallization-study of the Complete Salvation of God in Romans
The Experience of God's Organic Salvation Equaling Reigning in Christ's Life
A Dream Fulfilled *
A Letter of Fellowship with Thanks *
The Highest Point: Doing the Work of the New Jerusalem *
Final Prayers and Speakings by Brother Witness Lee *
Data sheet
ISBN

978-0-7363-8168-0

Published by

Living Stream Ministry

Language

English

Pages

2776

Catalog

22-094-901

Author

W. Lee